The Netherlands, the best place to be a nurse!
Here are 7 reasons why The Netherlands is the best place for nurses to work and live in.
1. Work in the highest quality health care system
Are you ambitious and want to work in a healthcare system that functions well, so why not go for the best?
Since 2008, the European Health Consumer Index (EHCI) positioned the Dutch health service at the top of a ranking of 36 different European countries. How?
Well, one reason lies in the fact that policymaking is efficient and solution-driven due to the efficient organization by health care professionals who along with health organizations have a great say in how healthcare is dealt with.
Boost your career as a professional nurse in Europe in a socially structured health system with great accessibility for both care receiver and caretaker.
2. Visit vibrant Cities
Not only Amsterdam captures the imagination of millions of tourists every year.
Rotterdam, the second largest city, is a hip and trendy city where modern art and design add to the authentic flavor of the largest port of Europe. After World War II, Rotterdam was entirely rebuilt. The layers of different styles of architecture give it a totally different feel than the Dutch capital Amsterdam.
Many health care professionals enjoy the beautiful city of Utrecht due to its young vibe, culture, architecture and medical centers in this city. Utrecht possess a strategical location in the middle of the country which makes it possible to reach every Dutch city easily. It is also the city of bikes and it is not a surprise that the largest bike garage in the world is located here.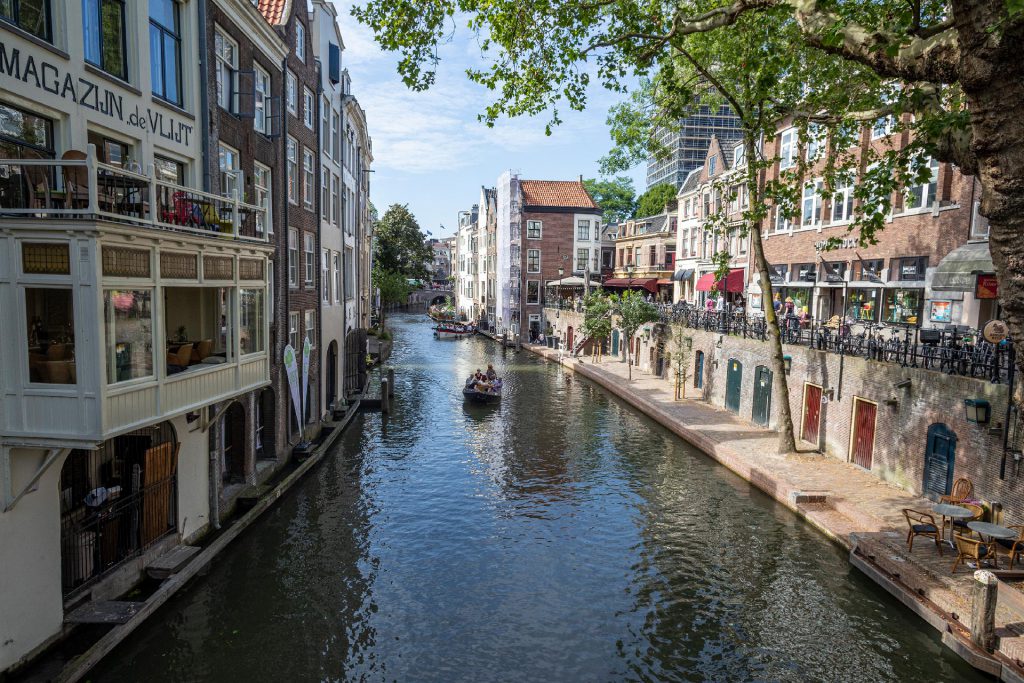 A sunny day in the canals in Utrecht.
3. The Dutch need you
Experts state that there are over 100,000 jobs to be filled up in the Dutch health care sector. Hence, the demand for nurses is high and companies are willing to travel to meet health care professionals from abroad. European Multi Talent Group (EMTG) is a frontrunner in this field and has a wealth of expertise in matching qualified candidates with a suitable Dutch healthcare institution.
Let your nursing talent be rewarded by personal coaching, language courses and competitive payment.
4.The Dutch care for people
Since the 17th century, Amsterdam has been a welcoming place for everyone seeking asylum. Even today people come to The Netherlands fleeing discrimination based on sex, religion, race or gender.
The Netherlands is a very open country that values and accepts professionals from all over the globe, just like you as a professional caretaker.
Amsterdam is a symbol of diversity and tolerance with over 180 nationalities, hosting events such
as the Gay Pride Canal Parade. The Dutch will make you feel welcomed!
5. Feel at home while staying connected
In contrast to many other European countries, the Dutch are multilingual. Not only the Dutch health care system is at the top of many lists, but according to the 2019 report by Education First, the Netherlands has the best non-native English speakers across the globe. Also, you will likely hear your language being spoken in the Netherlands because there are several international communities like Spanish, Portuguese, Italian, Romanian, Polish, British, and more.

Arrival of nurses to Schiphol
Furthermore, the Amsterdam Airport Schiphol and Eindhoven Airport are great European hubs as they are very well-connected to many European cities. As a result, you can easily visit family and friends abroad anytime of the year.
6. Money wise
Are you looking for a health care job in Europe that values you both as an individual and professional? Since the Dutch have one of the strongest economies of the world and there is a high demand for nurses, you will be rewarded accordingly.
You will receive competitive salaries and extra payments for working on Sundays, public holidays, irregular hours, and overtime. Working as a nurse in the Netherlands means working between 32 and 36 hours per week.
Furthermore, the socially conscious and prosperous system of the Netherlands not only benefits the care receiver, but also you as the caretaker.
7. Don't worry, be happy
According to the United Nations Human Happiness Report 2019, The Netherlands ranks as one of the top 5 happiest places on earth. If you are seeking great working opportunities and aspire a high quality of life, don't worry about what to do or where to go.
The Dalai Lama says that "The purpose of our life is to be happy". So, if you value happiness AND a great working environment, there is but one thing to do: go Dutch!
Working in a happy place will benefit you as a professional nurse and as an individual. Go on a foreign adventure and get happier altogether!
Are you seeking a nursing job in Holland that matches your needs, capabilities and wishes? Let EMTG help you build your health care career in The Netherlands. It is simply the greatest country to live and work in as a nursing professional.