NHS 'haemorrhaging' nurses as 33,000 leave each year
The NHS is "haemorrhaging" nurses with one in 10 now leaving the NHS in England each year, figures show.
More than 33,000 walked away last year, piling pressure on understaffed hospitals and community services.
The figures – provided to the BBC by NHS Digital – represent a rise of 20% since 2012-13, and mean there are now more leavers than joiners.
Nurse leaders said it was a "dangerous and downward spiral", but NHS bosses said the problem was being tackled.
The figures have been compiled as part of an in-depth look at nursing by the BBC.
We can reveal:
More than 10% of the nursing workforce have left NHS employment in each of the past three years
The number of leavers would be enough to staff more than 20 average-sized hospital trusts
More than half of those who walked away in the last year were under the age of 40
Leavers outnumbered joiners by 3,000 last year, the biggest gap over the five-year period examined by the BBC
Brexit may have had an impact. Since the referendum the NHS has gone from EU joiners outnumbering leavers to the reverse – more leavers than joiners
Nurses are being pulled off research work, special projects and admin roles to plug the gaps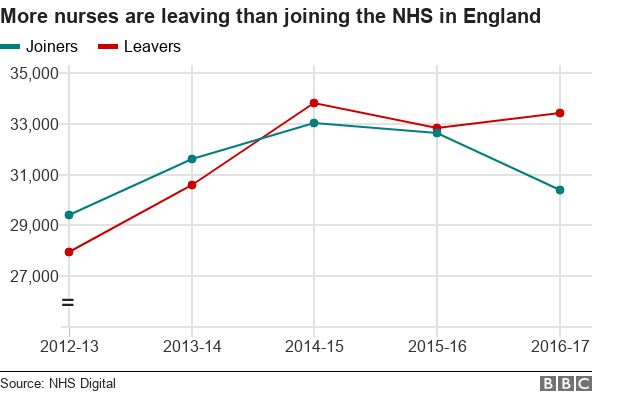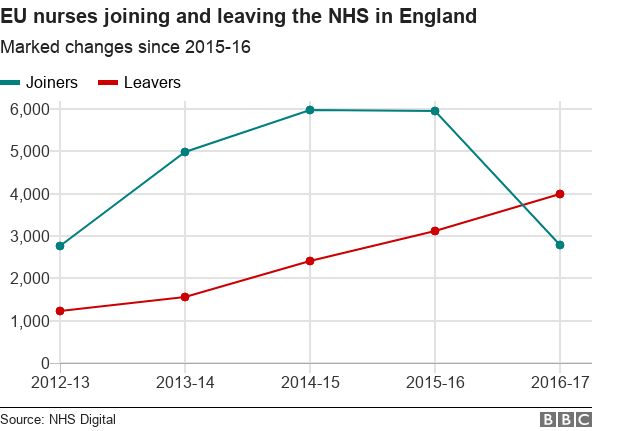 Other parts of the UK are also experiencing problems retaining nurses.
In Northern Ireland and Scotland, the leaver rates are rising. In the most recent years, 7.5% of nurses left NHS employment in Northern Ireland and 7.2% did so in Scotland. But in both nations, the number of joiners outnumbered leavers.
In Wales there were more leavers than joiners, according to Freedom of Information reports.
'I can't work in the NHS any more'