Why we care

 
Our new series of 1-on-1 interviews called ¨Why we care¨ will place the EMTG coaches in the spotlight. We want to highlight how our coaches help EMTG health professionals and healthcare institutions to optimize productivity, output and synergy. We have decided to work with coaches to help the nurses with their arrival to the Netherlands, enhance their Dutch language skills and act as a mentor and listening ear in their professional activities.  
To kickstart this new series, we are featuring Coach Cora! She loves to help people and has great affinity with healthcare as proven by the fact that she previously worked as a nurse for several decades. After gaining a vast amount of experience, she decided to take on a more leading role to guide a new generation of nurses. The nurses say that Cora is an amazing person. She is open to suggestions and is clear and concise in her communication. Meet Cora, a dedicated Coach on the job who is committed to help EMTG nurses on their new job in the Netherlands. 
Can you tell us something about yourself?  
I am Cora and have been working at EMTG since April 2020. For my whole career, I have been working in healthcare and throughout the years I have had different roles and positions but always within elderly care. Most of my career has been spent working in nursing homes but I have also worked in homecare for a while.
What inspired you to become a Coach?  
I really wanted a new challenge and when I saw the coaching vacancy it got me excited, and I decided to go for it!  I know what the requirements are to work in nursing homes and what it takes to fulfill the role as a nurse. This job gave me the opportunity to share my experience and guide new nurses while also giving them all the ins and outs of elderly care.  
What are some of the duties you enjoy the most of being an EMTG Coach?  
What I like most is when the nurses first arrive in Holland and I get to know them personally before helping them settle down at work. Beforehand we explain to them about the differences in how we work here in the Netherlands and which protocols they need to follow.  As a coach on the job, I go with them to the healthcare organization where they are placed to ensure that everything goes well. It gives me a sense of fulfillment to see that the nurses adapt to life in Holland relatively quickly in part due to our guidance.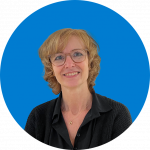 "It warms my heart  to see that when we visit the healthcare institution, how impressed the people are by how well our nurses can communicate in Dutch."
What are the biggest challenges with being a coach for international nurses and assistant nurses? How do you overcome them?  
Sometimes it is difficult to quickly introduce the nurses to a healthcare institution. Especially now that we are all dealing with the Corona pandemic and a lot of contact is done through distant calls, it requires a lot of patience from the nurses. It is understandable that they get impatient as they are eager to start and want to see their working environment as soon as possible. Because we as coaches always keep in touch with the nurses and we show them that we really do our best, they in turn accept the situation. Once they are finally allowed to start, they will soon forget about the delays and find out that it was ultimately worth the wait! 
How do you ensure that health professionals remain at ease and calm during this time of crisis?  
Just like I mentioned previously, it requires patience, understanding and tolerance. It's a difficult situation for everyone as due to the pandemic life has become different. It does not help to panic so I try to communicate a lot with the nurses and try to listen to them so that they feel more at ease.  
What is your most rewarding/precious memory of being an EMTG coach?  
What really gives me so much energy is when I see how excited yet tense the nurses are in the beginning to start with their new challenge in Holland. But in most cases, after having been here just for one day they become happy and cheerful once the nerves die down. We talk about all kinds of things after work every day so that they really find their place here. Furthermore, it warms my heart  to see that when we visit the organization how impressed the people are by how well our nurses can communicate in Dutch. That really helps us with our work. The fact that they are almost immediately ready for the B1 exam is very pleasant! 
What advice would you give to health professionals relocating to the Netherlands?  
Have patience with each other. Before you start working in the Netherlands, you can find lots of fun facts on the internet (on social media, YouTube and blogs) about working in the Netherlands. The videos can show you more about the Dutch landscape but also help with practicing your Dutch language skills! 
We understand the important life decision new EMTG nurses take when deciding to work in a new country and in a new language. Therefore, EMTG coaches are here to provide you support during the EMTG program to make the immersion to the culture and work easier. 
For more information about the EMTG program contact our local recruiter. 
If you are a nurse seeking for new job opportunities in the Netherlands, then feel free to visit our job page.