Nurse in the Spotlight – Helena
 It is time for another ¨Nurse in the Spotlight¨. This time we are excited to introduce you to Helena, a Spanish nurse. Ever since she was young Helena always had a lot of respect for healthcare professionals. When the time came to choose a career, she did not hesitate to study nursing. In 2019 she joined the EMTG program and after mastering the Dutch language in only three months at Academia Neerlandesa, she flew to the Netherlands to start her new nursing job in the Haarlem area at a home care organization.  Her colleagues describe her as a charismatic, positive, team player, and a professional nurse. In this interview, Helena shares her experience of settling in a foreign country whilst also getting accustomed to a new language and job.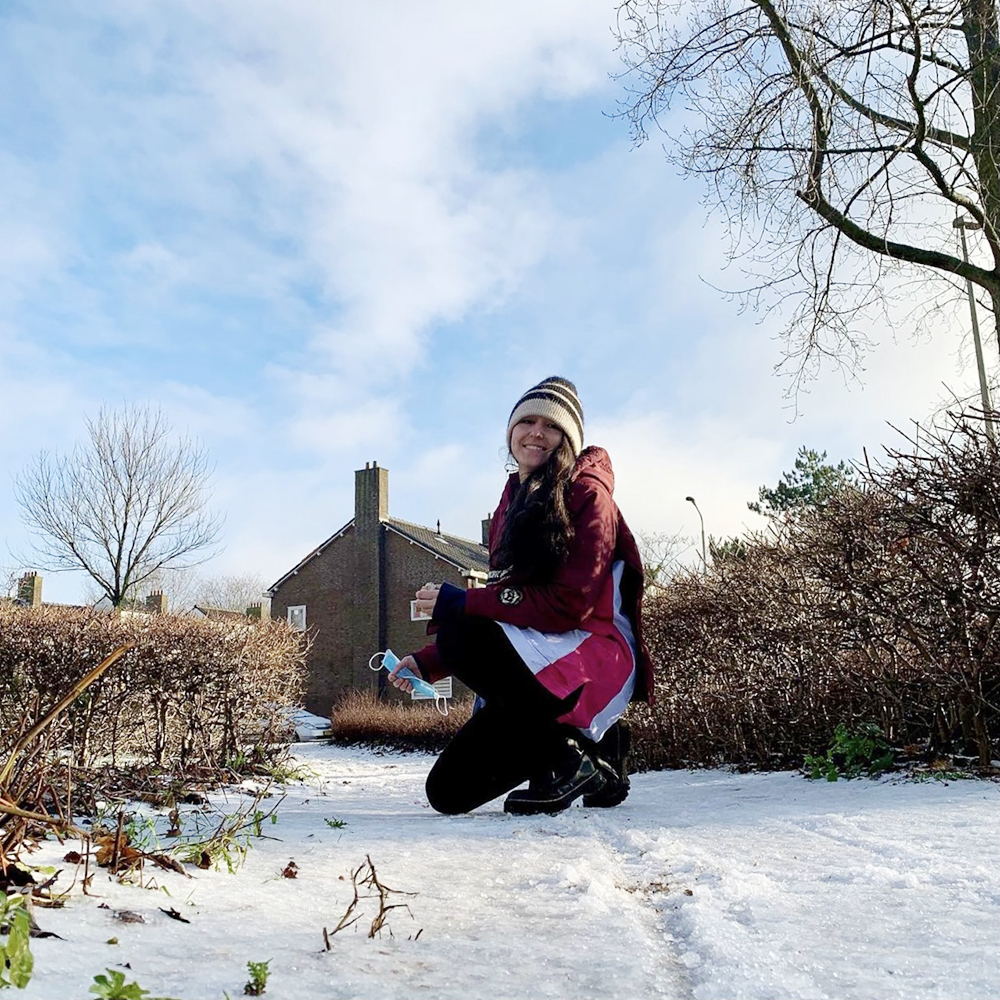 Having fun in the Dutch snow
ABOUT YOU 
What is your name and age?   
Helena Quintana Del Rosario, 24 years old 
Where are you from?  
I am from the Canary Islands in Spain.  
What university did you graduate from? 
University of Las Palmas de Gran Canaria. 
Why did you decide to become a nurse?  
I have always had a lot of respect for healthcare professionals and the power they have to help others.  
BEING A NURSE IN THE NETHERLANDS 
Since when do you live/work in the Netherlands and where do you work?  
I moved to the Netherlands in December 2019 and since then I work in Zandvoort near Haarlem, in the province of Noord-Holland.  
What are some of the duties you have on a day-to-day basis?  
I currently work as a registered nurse on home care. Upon arriving at the office, my co-workers and I talk about the routes, we read the reports and we prepare the material we need. My route starts at 7.30, if morning shift. The care provided varies; help with personal hygiene, transfers and techniques, intramuscular injections, administration of medication and insulin, wound care, compression dressings, insertion of bladder catheters, care of stomas and nephrostomies, among others. In addition, we do administrative work, organization of schedules and routes, quality evaluation, interdisciplinary meetings… 
How different is the Dutch work culture from your country? 
Throughout this year I have found small differences. I cannot say that there is only one or a significant one. The Dutch have a different way of relating but I have also found a lot of affection at work. Other differences could be found in the protocols of nursing techniques, such as the non-use of a disinfectant for intramuscular injections. In my case, I have continued to do it as I learned in Spain and I always comment on these differences with my co-workers. They also find them very interesting. The one [difference] that could be highlighted is the efficiency of the administrative function. We work to achieve results and your opinion is always valued. In the Netherlands they talk a lot about the famous feedback and generally they really like to hear your point of view on how care could be improved. 
What do you like the most about your job? 
What I like most about my job is the independence I must make decisions and the relationship that is created with the client. In addition, the job stability allows one to carry out work with greater tranquillity and from the beginning an adaptation to work is carried out by the hand of the companions, which is very much appreciated as a new worker in a new country. 
             "What I like most about this country is the freedom, both as of action and of thought."
WORKING ABROAD 
When and why did you decide to work in the Netherlands as a nurse?  
During the summer of 2019, I decided to make the leap abroad due to the little job stability I found. Normally I had short contracts in which as soon as I began to feel comfortable in, it ended. My first choice was always the Netherlands for its cultural richness and quality of life. Also, I had visited the country on several occasions. 
What is the biggest challenge(s) to working as a nurse in foreign country?  
This is a very personal question because it can vary a lot from one person to another, but I think one thing that many people could agree on is adapting to the new culture. For example, the Dutch are very honest and direct people. Other things to keep in mind are the language, missing family and friends, and finding your new circle in this new place. For me, the language has not been a problem yet. I arrived with a good level from the course in Alicante [Academia Neerlandesa] and during this journey I received a lot of help from my clients and colleagues. As for family and friends, I have been able to wrap myself in with new friends that I have met this year who understand what I feel when experiencing the same living situation. 
What are the benefits of working abroad in your professional and personal life?  
As I have already mentioned, one of the best benefits is job stability and therefore, the economy. Another benefit that motivated me to emigrate was the growing possibility and training as a nurse. In the Netherlands there are a number of nursing specialties which, unfortunately, are not yet recognized in Spain.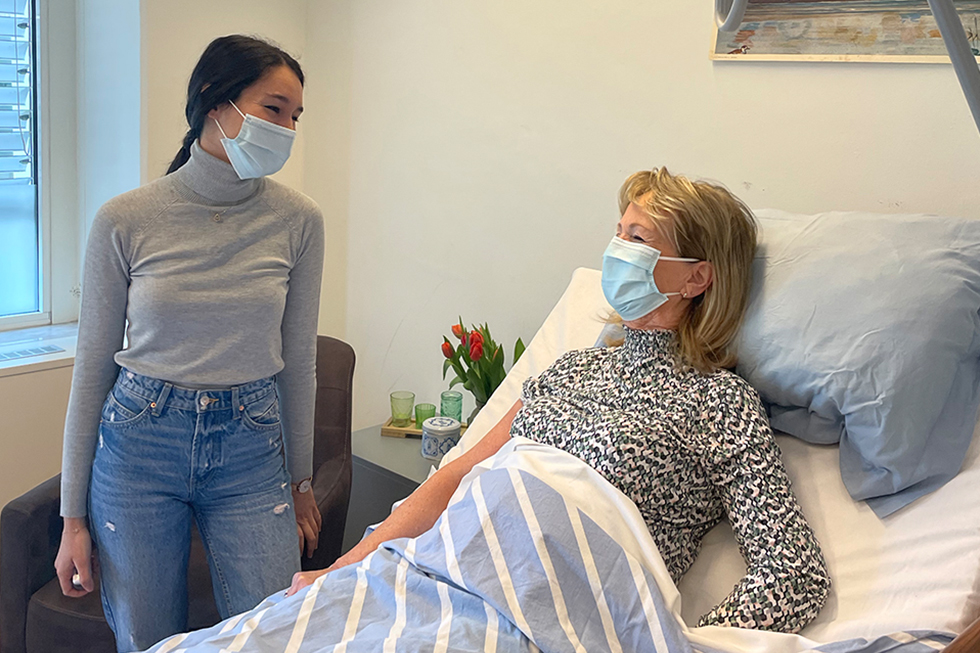 Helena bonding with a client.
NETHERLANDS 
How's your life in the Netherlands? What do you do in your free time?  
I like my life here; I feel that I have my independence and that I have matured a lot throughout this year. In my free time I usually see my friends, play sports and travel. This year, despite the situation, I have been able to take advantage of and visit various places. 
What do you like the most from the Netherlands?  
What I like most about this country is the freedom, both as of action and of thought. Its traditions and the multiculturalism that exists. 
What are your future goals in the nursing field in the Netherlands? 
My short-term and long-term goals are to improve my Dutch language and gain experience in order to study a specialty. 
MESSAGE 
What message do you have for future nurses that are considering working abroad?  
My advice to nurses and assistant nurses considering this adventure is to seriously think about how to do it. Be realistic about how complex it can be to move to a new country. See the possibilities and what it takes to start this project and even more importantly, have confidence in yourself. At the end of the day, a language must be studied, and I consider this a worthwhile experience. Much encouragement to everyone! 
To see more of Helena, you can follow our Instagram account where we will show you stories of a day in the life of a nurse that is working in Dutch healthcare: 
https://www.instagram.com/p/CKMGVpXpIHl/ 
At EMTG we are always open to the idea of welcoming new healthcare professionals to the Dutch healthcare industry. Should you, like Helena, be interested to advance your career and gain more personal growth then you are always welcome to contact us. Moreover, you can look at social media pages to learn more about the EMTG program and get an insight look at what we have to offer.  
Are you a nurse that's looking to expand your horizon and interested in working in the Netherlands? Let EMTG help you build your health care career in The Netherlands. It is simply the greatest country to live and work in as a nursing professional.